We invite you to visit HOST, the world leading trade fair dedicated to the world of catering and hospitality, including hundreds of events in all sectors, from bars to pastry shops, from catering to furnishing.
HOST 2021 will take place in Milan from 22 to 26 October 2021.
Professional operators will find a complete offering from international hospitality and hotel industries, and the latest trends in terms of equipment, raw materials, and semi-finished products.
The main objective will be INNOVATIVE SUSTAINABILITY: to present smart solutions in a sustainable perspective, solutions within everyone's reach both from an economic and a geographical point of view, capable of putting people at the center, attracting them and thus enhancing the territory. in which we operate, increasing the value of a high quality and professional production, like the Italian one.
Come to Host to find out more about the future trends.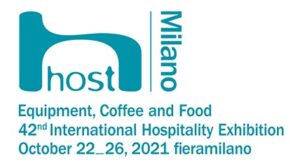 For more info, go and visit the website:https://host.fieramilano.it/en/